<!—- ShareThis BEGIN -—> <!—- ShareThis END -—>
GET YOUR SPIRIT RIGHT
In order to live your best life on purpose, you need to become one with your spirit. You need to reach deep into yourself and your soul to be guided by it. According to King James Version (KJV) of the Bible:

8 But [there is] a spirit in man: and the inspiration of the Almighty giveth them understanding.

There is a light inside of all of us that cannot be dimmed. The best way to get our light to shine is by connecting to a higher power. Let's dive a little deeper into that place of light. 

CONNECT TO A HIGHER POWER
Adobe Stock Image
To keep things into context, we refer to a Higher Power here on this site as God, Jesus and the Holy Spirit. Some may not agree...but use this as a guide. You can also read our full disclaimer by clicking here!
The same God that created the moon, stars and the sun exists within you. There is no need to go through an intermediary to speak to the creator. You can speak to God through prayer. This supreme being is directly connected to you and speaks to your spirit. When you feel out of sorts in some way or another through good and bad times, all you need to do is pray to stay connected. As long as your spirit is in existence, you can never be disconnected from your creator. 
A great way to connect to a higher power is to join a church. You can do that in person or over the internet. If you plan to join a church, visit a few of them during their appointed service dates and times. Then make the decision about the church that you feel good about and join. If you are a traveler or just too darn busy to make it in person, find a church online. It's a new day and age people and there are plenty of churches online where you can get your spirit fed. Also, most in person churches cover their sermons live on the internet as well. Just find a church that speaks to you when you listen to the message and attend at the allotted time frame. You do not necessarily need to become a member. However, I guarantee that if you consistently attend, you may just want to. 
YOUR SPIRIT AND YOUR CHOICES
We often hear colloquialisms in which people say things like "the spirit is broken" or "someone's spirit may never be the same." Without a doubt, we know that the spirit is immutable. People go through things in life. Heartache, pain, depression, etc. that could ultimately "break ones spirit". Through the Lord and prayer you can be healed. You need to choose to walk in positivity and not let your spirit be broken...exercising your faith that God will get you through anything!
Our motto here at LAC Destiny is "Life is about choices; choose your destiny!™" Our success and/or failures in this life depends on whether or not we are able to make the right choices that steer our life's direction. Let's be clear, some people may be in negative situations, conditions or surroundings and it may be a circumstance they were put into that was beyond their control. Your best approach to turning a negative situation into a positive one is for you to live your best life on purpose and CHOOSE to remove yourself from any and all things negative. Be it friends, family, living arrangements, etc...remove yourself! It may not be an overnight move and may take some time. However, devise a step by step plan and do it! 
If you approach a fork in the road of your life, you should pray on it. A fork is a figure of speech which means there is a decision to be made pertaining to your life. That decision could be any of the following:
You need to decide if you are going to college or will just get a job

You are dating and you need to decide which person you would rather be in a relationship with

You are at a job and need to decide if you want to look for another one

The choice to drink alcohol or smoke cigarettes or do drugs
This "fork" can be ANYTHING! Making moves without prayer may lead to a good life or NOT. God gives us freedom to make the choices to do and move how we want in our own lives. You only have one life...make the right decisions...the good decisions...and remember, every decision you make for your life has consequences, good or bad.
HAVING FAITH
What is faith? There are so many verses in the Bible pertaining to faith. However, below are just a few of our faves:

Hebrews 11:1

 Now faith is the assurance of things hoped for, the conviction of things not seen.



2 Corinthians 5:7  For we walk by faith, not by sight.

Hebrews 11:6 And without faith it is impossible to please God, because anyone who comes to him must believe that he exists and that he rewards those who earnestly seek him.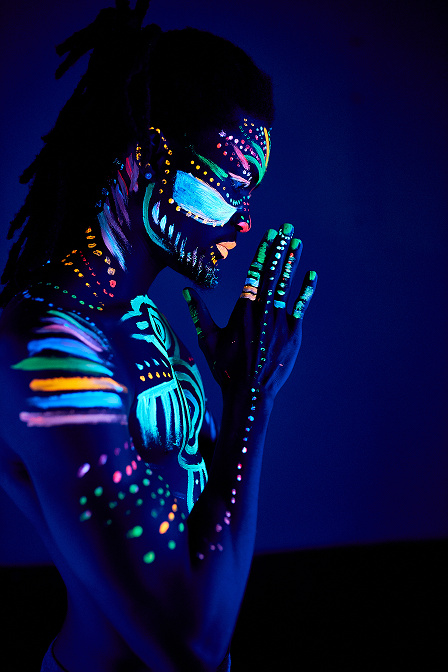 Adobe Stock Image
Faith means trusting and believing that God will be there for you in any situation. When you make a prayer to the Holy Spirit, you are praying from your heart for God to provide, to fix, to heal, to guide you or WHATEVER it is in your life that you need help with. Once you have prayed, this is when the faith kicks in. You pray and release it, believing that God has got your back. You then wait on God for answers within your spirit or through physical manifestation. God moves in his own timing and always shows up when needed! If he doesn't show up, that means you didn't need it or it is not meant for you to have. (Speaking about things like a new job, car, etc...things like that) 
"If God is Almighty and sees and knows everything, why doesn't he just fix my problems?" This question appears all too many times. God wants you to pray and ask him for help. Yes he sees all things but he wants to know that you acknowledge him and that you seek him for help. This is to help you mature spiritually and tone your faith muscle so that you can trust in him to handle any and all situations pertaining to your life. Include Him in your day to day...good or bad and ask him for help in all areas of your life.
Don't Take it To Heart! Some people may say..."God didn't answer my prayer" or "God never shows up when I need him" It is that type of "Stinkin Thinkin" (says Zig Ziglar) that keeps people in the same boat in life or going around that same mountain in life with no view of improvement in your situation or circumstances. ALWAYS remain positive in any and all situations you are praying for or about...even if it looks like there is no way out.
Faith without works is dead. Meaning: If you pray for something, don't just sit around and hope and wish that it happens. You have to do EVERYTHING you can do on your part and God will take care of the rest. 
Example: Your prayer is for God to make your book a best seller. After You've prayed, you need to then do what you can on your part by writing the book researching the subject matter etc. You cannot ask God to make your book a best seller and hope that he is going to write it for you. GET MOVING!!! Stay in motion and doors will open.
Final thoughts:
If it is meant for you...you will get it, you will have it or you will be it!

Always walk in love no matter what! Galatians 5:22-26 22But the

fruit

of

the Spirit is love, joy, peace, forbearance, kindness, goodness, faithfulness, 23gentleness and self-control. Against such things there is no law. 24Those who belong to Christ Jesus have crucified the flesh with its passions and desires. 25Since we live by the Spirit, let us keep in step with

the

Spirit

. 26Let us not become conceited, provoking and envying each other.
God Bless You Always!